YOU DON'T HAVE TO BE A WORLD-CLASS CHEF TO MAKE A WORLD-CLASS MEAL
ALL YOU NEED ARE THE FRESHEST LOCALLY GROWN INGREDIENTS
Our online farm store makes that part easy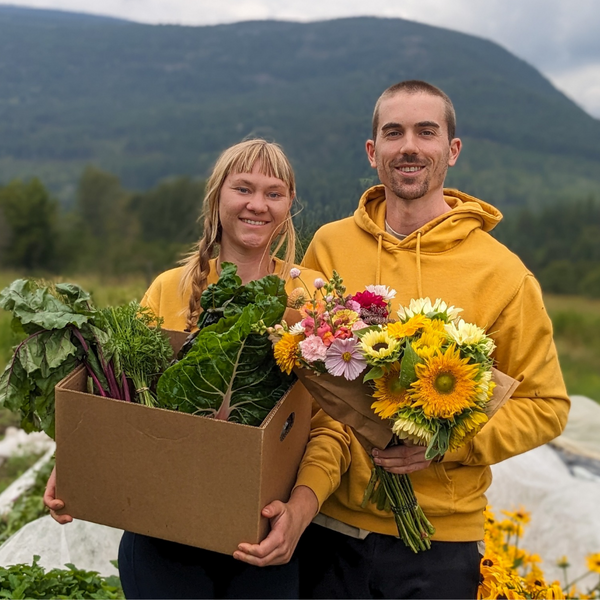 We are Emily & Nathan of Confluence Farms
Your one-stop-shop for veggies, cut flowers, seasonal pantry items and baked goods made with our freshly milled flours.
THE EASIEST WAY
TO MAKE A BIG IMPACT
ORDER ONLINE FROM THE COMFORT OF YOUR HOME
SAVE TIME BY GETTING YOUR ORDER DELIVERED TO YOUR DOOR

GET THE MOST NUTRITIOUS & BEST TASTING INGREDIENTS
IMPROVE LOCAL FOOD SECURITY BY SUPPORTING SMALL LOCAL FARMS

STIMULATE OUR LOCAL ECONOMY
FIGHT GLOBAL WARMING BY SUPPORTING LOCAL AGRICULTURE
ACHIEVE ROCKSTAR CHEF STATUS
BUILD YOUR CUSTOM FARM BOX
SATURDAY DELIVERIES TO NELSON. SUNDAY DELIVERIES TO CASTLEGAR.
Our deliveries are currently limited to the route between Six Mile, Nelson, Pass Creek, Castlegar and Genelle. We do not offer on-farm pick ups.
Nelson deliveries will be on Saturdays between 6 am and 10 am. Cut off time for orders is Friday at midnight.

Castlegar deliveries will be on Sundays between 6 am and 10 am. Cut off time for orders is Saturday at midnight.